Weddings
Weddings
Special days require special arrangement! Dear Betrothed! Let us astonish you and your Guests with the flavours which you have never known before, with friendliness and sophistication hard to find elsewhere! Wedding dinners and full receptions in the Patio Restaurant are always the best choice!
Ideal place, ideal location
The elegant and intimate Patio Restaurant is located in the 19th century tenement, to put it more precisely, in a 3* Patio Hotel. Not more than a few steps only separate you from the Wrocław Market Square.
In front of our restaurant, there stands one of the most enchanting temples of Christianity in Wrocław – namely, the Saint Elisabeth Church. Within the distance of merely 300 m, you will find also the historical Town Hall, and the Registry Office is 600 m away from here. So, scarcely a short walk divides you from the place where you exchange your wedding vows and the place where you celebrate it…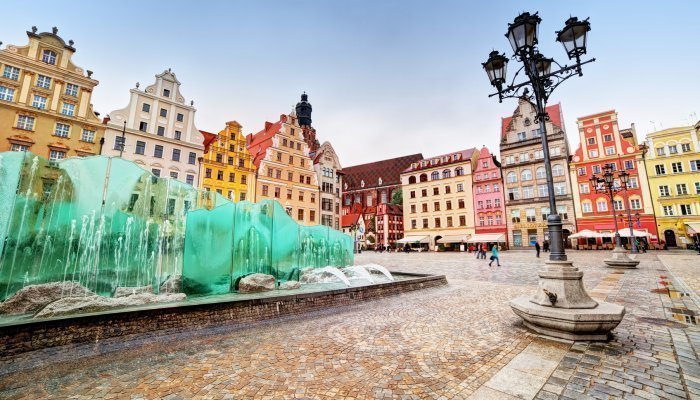 Comfy space
The Patio Restaurant is elegant, arranged in toned colours, perfect for 40 – 50 people.
It shall suit both seated dinners and solemn wedding receptions. On request, we can even prepare a small dance floor, buffet with cold snacks, coffee buffet or a play corner for the little ones. And our befriended florists "La Vida" will take care of the flower arrangements for your wedding table.
Flavours to enrapture your wedding guests
No matter how much demanding your Guest might be, our dishes will surely tickle their fancy!
Our Chef will take care of everything – serving you with the traditional Polish cuisine and modern European dishes of the European, enriching it with fancy desserts and original snacks. Beef roulades, exquisite sous-vide duck in the cherry sauce or chicken fillet stuffed with sun-dried tomatoes wrapped in prosciutto… Sounds nice, right? And that's only the beginning…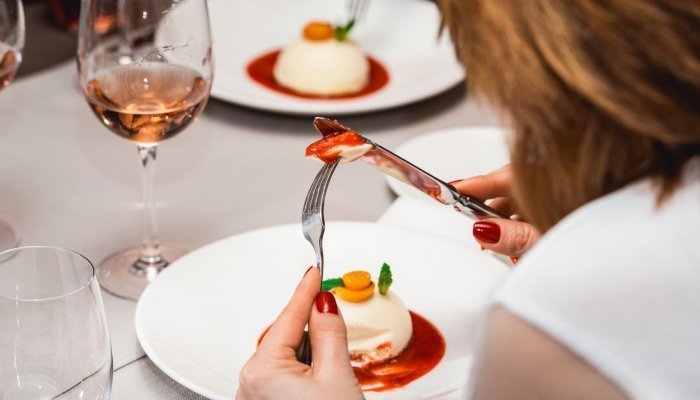 Tailor-made menu
You can rest assured that your every single wish will be taken into consideration here! The menu will be a delicious fruit of thoughtful preparations, holding your deepest wedding dreams within.
Our cook can prepare both vegetarian, gluten-free, lactose-free dishes and child-friendly menu! We will also help you choose suiting wines or any other alcohols. And remember! Our staff is constantly at your full disposal!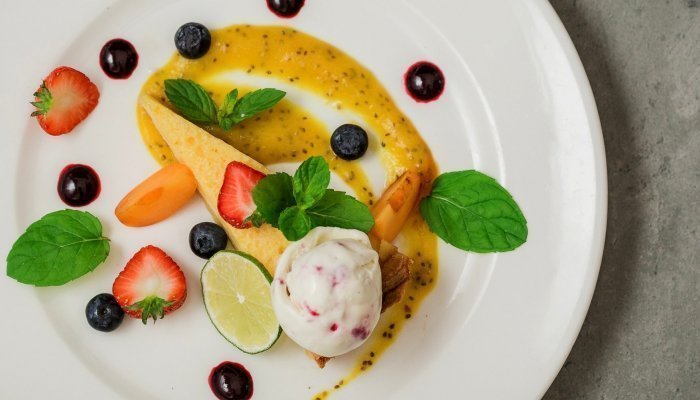 Details matter the most
With twenty years on the market and more than five hundred receptions organized, we are definitely experts in the branch!
As the experience has repeatedly taught us, details matter more than anything and they have often a majestic impact on the whole. We know how much one small failure can destroy a generally good reception so we always do our utmost to keep it neat. If you'd like to find out more about it – don't hesitate to drop us a line! No doubt, we'll something nice for you!