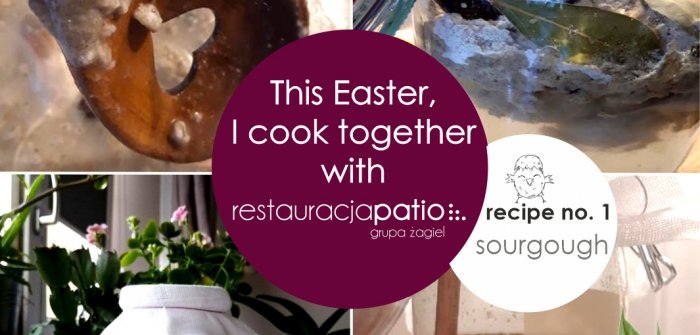 Easter is coming ... ☺ Every year, most of us spent this time at the family table, on endless conversations and memories.
Each household member had their hands full in the heat of Easter preparations.
The kitchen smelled of Easter baked goods and traditional dishes.
Life in our hotel restaurant and kitchen looked the same ...
Dear guests, we are facing a great challenge!
Let's stay home this Easter. ♥
This does not mean, however, that there will be no Easter!
We will simply spend it in an unusual way in a smaller group.
Unfortunately, this year we also can't invite you to our holiday table at the Patio restaurant.
But especially for you, our chef and his team have prepared several recipes for Easter dishes that you can prepare at home.
This is the last moment to prepare the ingredient for Easter soup!
So today a recipe for: Sourdough
INGREDIENTS:
▪️ rye flour - 50 g
▪️ dry shell (preferably wholemeal)
▪️ allspice - 4 grains
▪️ bay leaf - 2 pcs.
▪️ half a clove of garlic
▪️ lukewarm water - 0.5 l
PREPARATION:
Pour the flour into a liter jar. We add allspice, bay leaves, crushed garlic and a crust of bread. We pour lukewarm water. Mix thoroughly.
We cover the jar with linen cloth, tie it and put it for a few days in a warm place.
READY ☺
We are waiting for your photos of Easter dishes on our Facebook and Instagram @ restaura.patio - Greetings! ♥